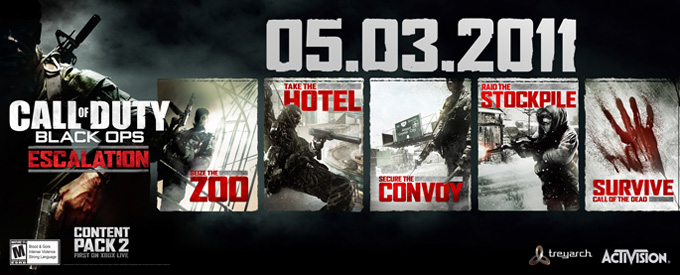 Everybody and they momma been talking about this. I did not post about it cause I had to to hear it from the horses mouth.BUT NOW IT"S ON. Sorry PS3 ppl but us Xbox users get it first.
Escalation contains 5 all-new exceptionally varied maps; featuring 4 Multiplayer maps and an epic Zombies experience with all-new playable characters.
n Multiplayer, battle it out in "Hotel", on the roof of a Cuban luxury hotel and casino against the vivid backdrop of old Havana; "Convoy" delivers intense, close-quarters combat at the scene of an ambushed US military convoy; "Zoo" takes you on a wild ride in an abandoned Soviet Russian Zoo, with danger at every turn; "Stockpile" pits players in a remote Russian farm town housing secret WMD facilities.
For Zombies fans, "Escalation" features a unique Zombies experience. We can't wait to take the wraps off of our new Zombies map, Call of the Dead, a very special creation for all Zombies fans.
Additionally, to celebrate the upcoming release, there will be a Black Ops Double XP weekend beginning Friday, May 6th.